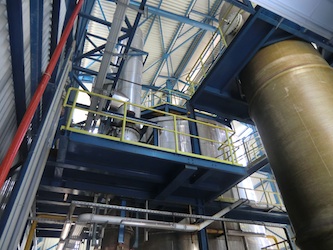 ASTEC offers state of the art HCl acid regeneration plants for the recovery of waste pickling liquors from pickling lines. The range of plants which we can carry out is ranging from 750 l/h to 12,000 l/h. We are able to provide plants on a turn-key basis, including all activities like design, purchasing, manufacturing, construction and commissioning.
We provide Acid Regeneration Plants for Hydrochloric Acid using the spray roaster or fluidized bed system. The ASTEC spray roast regeneration technology provides a comprehensive solution for the regeneration of waste pickle liquor and rinse water in the modern steel industry. It combines the high economical expectations of our customers with the environmental requirements of today.
The process itself is the result of a long experience, extensive testing and detailed computer simulations carried out by ASTEC. It is the end of a development which always had the goal to maximise the benefit for our customers.